Monte Carlo Simulation of XY Model with Python
Published:
Python codes for XY model simulation.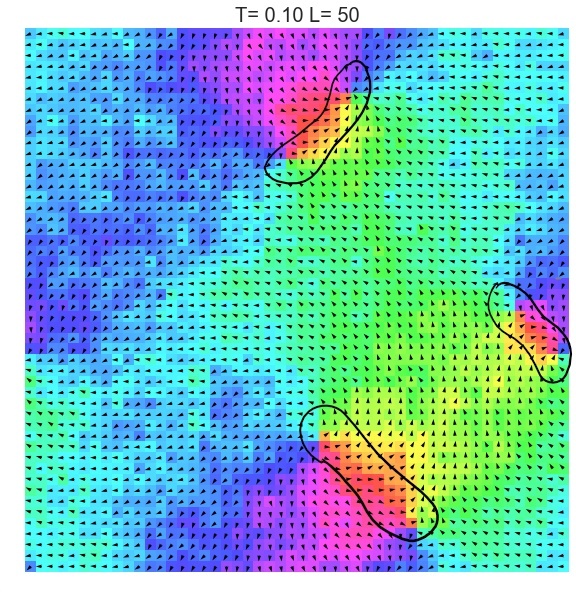 What's it?
A python program used for Monte Carlo simulation (Metropolis algorithm) of XY model.
What are the outputs?
equilibrium spin configuration in differnet temperature
thermal quantities of XY spin system in different temperature
How to use this program
import the class
from

 

XY_model

 

import

 

XYSystem



creating an object as a X-Y spin system with given width and temperature
Use XYSystem(temperature = , width = ) to creat a class object. Two variables can be assigned to initilize the system: the temperature and the width.
xy_system_1

 

=

 

XYSystem

(

temperature

  

=

 

0.5

,

 

width

 

=

 

15

)



visulizingthe spin system
Using .show() to visulize the xy spin system as arrows on a two-dimensional plane.
xy_system_1

.

show

()




print

(

'Energy per spin:%.3f'

%

xy_system_1

.

energy

)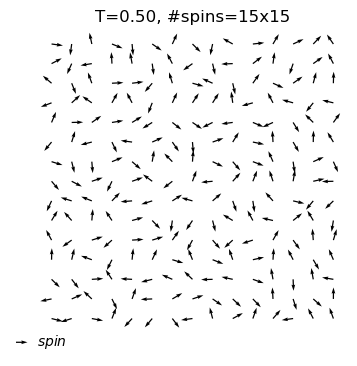 Now, let the system evolve to an equilibrium state
self.equilibrate(self,max_nsweeps=int(1e4),temperature=None,H=None,show = False) allows you to assign a new temperature, just simply do object.equilibrate(temperature = 3). If you want to keep the temperature defined before, leave it blank. And ·sohw=Ture` will let show the configuration of the system for each 1000 sweeps.
xy_system_1

.

equilibrate

(

show

=

True

)




xy_system_1

.

show

()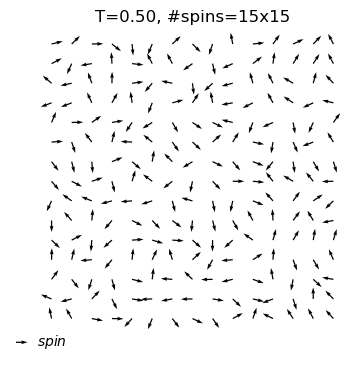 equilibrium state is reached at T=0.5
#sweep=504
energy=-1.72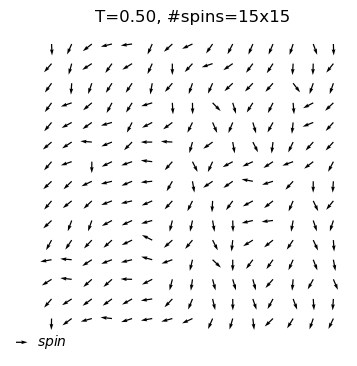 Observing the thermal quantities in different temperature - annealing approach
xy_system_2

 

=

 

XYSystem

(

width

=

7

)




cool_dat

=

xy_system_2

.

annealing

(

T_init

=

2.5

,

T_final

=

0.1

,

nsteps

 

=

 

10

,

show_equi

=

True

)



equilibrium state is reached at T=2.5
#sweep=6802
energy=-0.48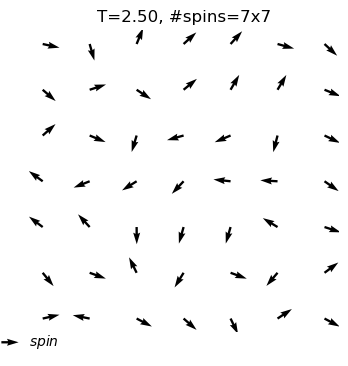 equilibrium state is reached at T=2.2
#sweep=3429
energy=-0.48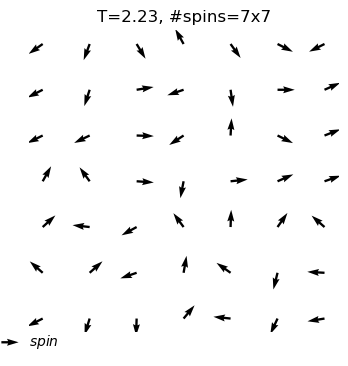 equilibrium state is reached at T=2.0
#sweep=9999
energy=-0.47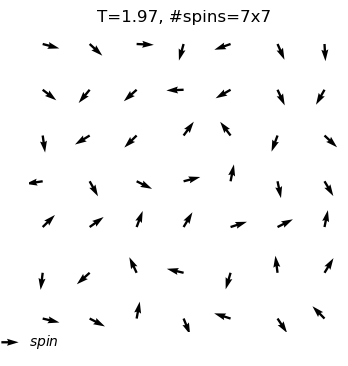 equilibrium state is reached at T=1.7
#sweep=2809
energy=-0.60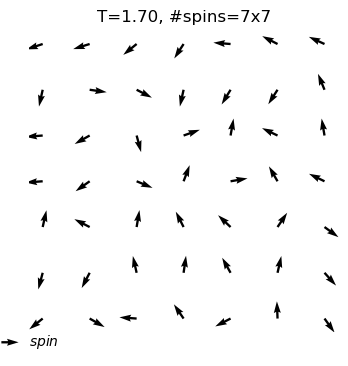 equilibrium state is reached at T=1.4
#sweep=989
energy=-0.74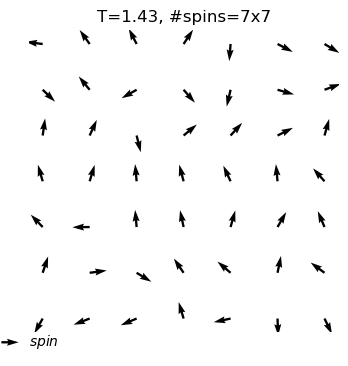 equilibrium state is reached at T=1.2
#sweep=2253
energy=-1.35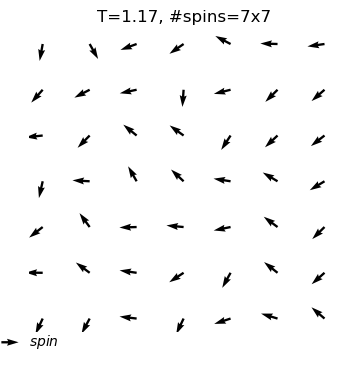 equilibrium state is reached at T=0.9
#sweep=636
energy=-1.68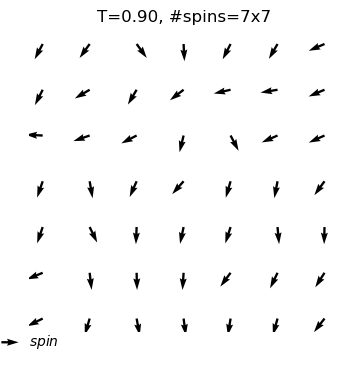 equilibrium state is reached at T=0.6
#sweep=837
energy=-1.72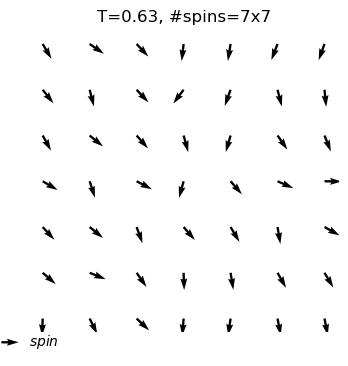 equilibrium state is reached at T=0.4
#sweep=548
energy=-1.86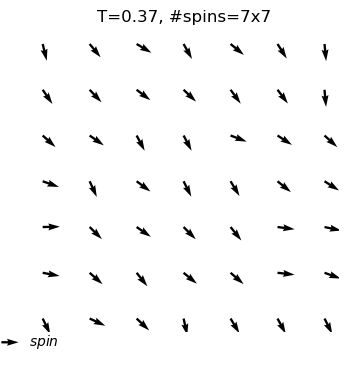 equilibrium state is reached at T=0.1
#sweep=503
energy=-1.95